The Children's Reflexology Programme
Linda-Jayne Foster - Qualified Instructor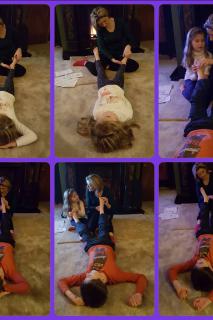 Have you ever felt helpless when looking after your children at work or home?
I think we all have, I first got interested in reflexology when I reaslised my son suffered from anxiety. I enrolled purely to become a better Mum, but was so taken back by the how much my children loved and benefitted from the reflexology. I knew I had to become an instructor. and qualified reflexologist. The Bond between us is closer than ever before and they are now asking me to rub certain areas when feeling under the weather or for some extra comfort.
Having worked with children my whole life including private Nanny to some additional needs including CF and Lesch Nyhan Syndrome, I am well aware of the problems children face and the difficulties we face as parents and carers.
I am going to empower you with knowledge to help you through the everyday experiences like teething, to tantrums as well as much more.
I am extremely interested in working with PND groups and bringing that special bond together.
This is a medicine box with skills you will have for life from newborns right up to adulthood and I would be delighted to meet you and teach you this wonderful programme.
Courses
I don't have places available on courses running in the near future but please do contact me to find out when more courses are coming up or to see if we can arrange something specially for you.
Qualifications
I have the following qualifications in The Children's Reflexology Programme:
Instructor in The Children's Reflexology Programme
Additional Needs Instructor in The Children's Reflexology Programme
Contact details
Please contact me if there's anything else you'd like to know.