The Children's Reflexology Programme
Jana Cadez Amali - Qualified Instructor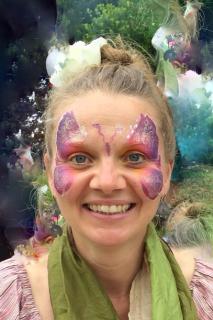 Hello dear visitor,
I am an enthusiastic, passionate, creative soul who adores children, loves people, all shades of art from music, painting, baking, singing, cycling to reading, writing, nourishing and growing relationships with family, friends and myself.
I am also a very proud mummy to a beautiful baby girl.
I am a professional musician flutist,music teacher, Reiki practitioner, gestalt therapist in training and Children's Reflexology Programme instructor.
I teach in schools and worked with people with learning disabilities and mental health problems.
I believe that a solid, strong foundation built with our parents/carers in the early days and years of our life plays an essential part in how we see, experience and deal with the world around us through out our life journey.
Human touch is one of the most amazing healing powers there is and to be able to share this gift with your child is amazing, necessary and empowering. Building love, trust, confidence, security, wellbeing and health through touch is an ongoing process and a tool for life.
Please contact me for any information about the coming up courses with The Mouses's House or any other questions you might have about this beautiful reflexology programme.
I am looking forward to hearing from you.
Sending happy smiles and a message from a Persian poet
The Happy Virus
I caught the happy virus last night
When I was out singing beneath the stars.
It is remarkably contagious –
So kiss me.
by Hafiz
Courses
I don't have places available on courses running in the near future but please do contact me to find out when more courses are coming up or to see if we can arrange something specially for you.
Qualifications
I have the following qualifications in The Children's Reflexology Programme:
Instructor in The Children's Reflexology Programme
Contact details
Please contact me if there's anything else you'd like to know.