The Children's Reflexology Programme
Emily Smith - Qualified Instructor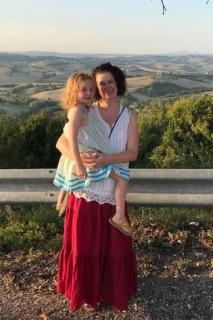 Hello, my name is Emily and I live in the lovely village of Honley, near Holmfirh in West Yorkshire with my husband, two children, cat and dog.
Two years ago I decided to take my career in a different direction and trained to be a Reflexologist and since then have been working with some wonderful like minded people at Cocoon in Holmfirth. I have always loved having reflexology treatment, my treatment of choice, but to be able to share that with other people as a therapist has been amazing.
I trained with the very lovely Susan Quayle, who developed the Children's Reflexology Programme, so that I can share some of the magic of reflexology with parents and carers so they too can see the benefits in their own family.
As well as the courses detailed below I am planning to run sessions for crawlers, toddlers, pre-schoolers and mums of school children as well as a drop in clinic with short appointment for children, ante-natal workshops and pre-post immunisation workshops.
Maybe you would like to host a course of reflexology classes in your own home with a group of friends attending? Please contact me to discuss this or any other questions or suggestions you may have.
Courses
I don't have places available on courses running in the near future but please do contact me to find out when more courses are coming up or to see if we can arrange something specially for you.
Qualifications
I have the following qualifications in The Children's Reflexology Programme:
Instructor in The Children's Reflexology Programme
Reflexologist Instructor in The Children's Reflexology Programme
Contact details
Please contact me if there's anything else you'd like to know.
Contact me
Mobile:
07950138813
Address:
Cocoon
39c Station Road
Holmfirth
West Yorkshire

Postcode:
HD9 1AB
Email:
mollyjanesmith@hotmail.com