The Children's Reflexology Programme
Abi Fenton - Qualified Instructor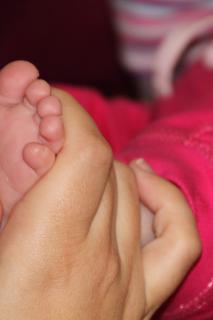 All about me
My career started in teaching where I taught primary school mainstream KS1 children. I then went into Special Needs teaching where I spent 8 years working in a special school which I loved. Unfortunately the teaching side changed in my time within schools, this lead me to work as a childminder to also be at home with my 3 and 5 year old girls. (started in Sept 2017)
Due to working in schools I have visited a therapist for reflexology and reiki as well as hypnotherapy. This was to support me with the stress of teaching and lead me down the holistic therapies pathway.
In Feb 2018 I qualified as a reflexologist. I have not looked back and love working with my clients. To link my work with fertility and maternity clients as well as working as a childminder I felt that children's reflexology would be a great way to link everything together but to also teach parents some simple techniques to use on their babies / children to support them in times of need. They then have these amazing techniques to use at the tips of their fingers at any time or place they may need to use them.
Why take part in the children's reflexology programme?
When your baby or child is ill or suffering in some way, our natural instinct as a parent is to want to help and support them in whatever way we can. This could be in the middle of the night, during the day when we cannot get in contact with our GP or Health visitor for advice and support. Therefore knowing how to help our baby or child through a gentle touch approach could be of great value during these times of need, when all they want is to be close to the people they love and feel safe around as well as in an environment they are familiar with.
Some of the situations you may want to use reflexology on babies and children could include: sleep problems, teething, pre and post immunisation, reflux, constipation, allergies, tummy upsets, earache tantrums, night frights, stress and anxiety, colic, coughs and colds, asthma and much more.
Courses
I don't have places available on courses running in the near future but please do contact me to find out when more courses are coming up or to see if we can arrange something specially for you.
Qualifications
I have the following qualifications in The Children's Reflexology Programme:
Reflexologist Instructor in The Children's Reflexology Programme
Contact details
Please contact me if there's anything else you'd like to know.